Biological Sample Management
Your Samples Are in Good Hands - Globally!
Your biological samples are invaluable. That is why we developed the MLM Sample Storage System® to guarantee the traceability and integrity of your samples at all times. Our European and North American storage facilities provide short- and long-term biostorage solutions for over a million samples. Each facility is located next to our laboratories, allowing for flexible, controlled analytical testing of any stored samples while maintaining worry-free chain of custody. Our chain of custody procedure guarantees full traceability of your precious sample – whether it is freeze-thaw cycles, duration of storage and full temperature monitoring.
Our Sample Management Solutions Include: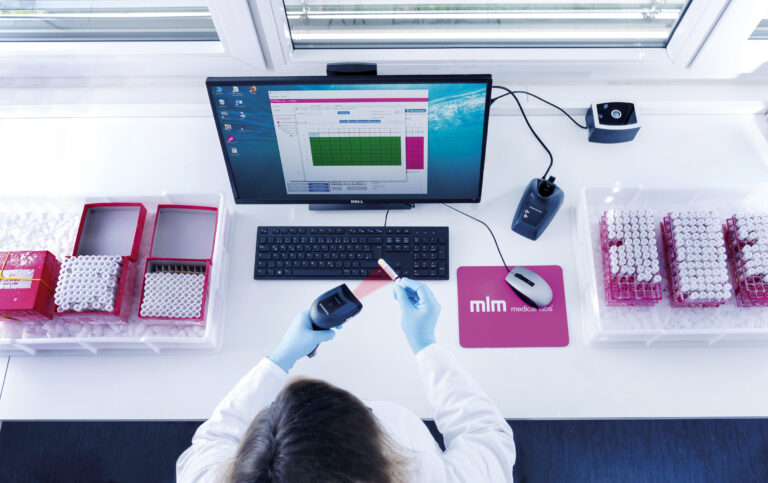 Audit trail tracking of samples and materials via barcode within our 21 CFR, Part 11 compliant MLM Sample Storage System®

Digital storage history for each individual sample
Documentation of freeze/thaw cycles
Registration of samples by exact location including – room, freezer, shelf, container, position

Storage temperature monitoring and electronic archival with temperature data from historical time periods available for review as needed.
Rapid and reliable shipment through closely monitored and widely trusted global logistics providers
Proactive project managers who work with your team to fit your workflows and timelines
Multiple business-continuity systems to facilitate sample integrity, including:

24hr temperature monitoring
Emergency alerts to on-call staff
Redundancy freezer availability
Multiple generators in the event of a natural disaster

On-site sample analysis for seamless workflows, full control and maximum flexibility
Scalable storage capacity to accommodate your needs.
Our biostorage capabilities cover all relevant temperatures including ambient, -20/30°C, -70/80°C and in liquid nitrogen (LN2) with our isothermal cryogenic dry-vapor freezers for maxium sample integrity.

Worry-free Chain of Custody
Our dedicated staff utilizes years of expert scientific knowledge and hands-on biostorage experience along with our MLM Sample Storage System© to deliver a comprehensive short- or long-term storage plan that ensures the integrity of your biologic samples at every turn.